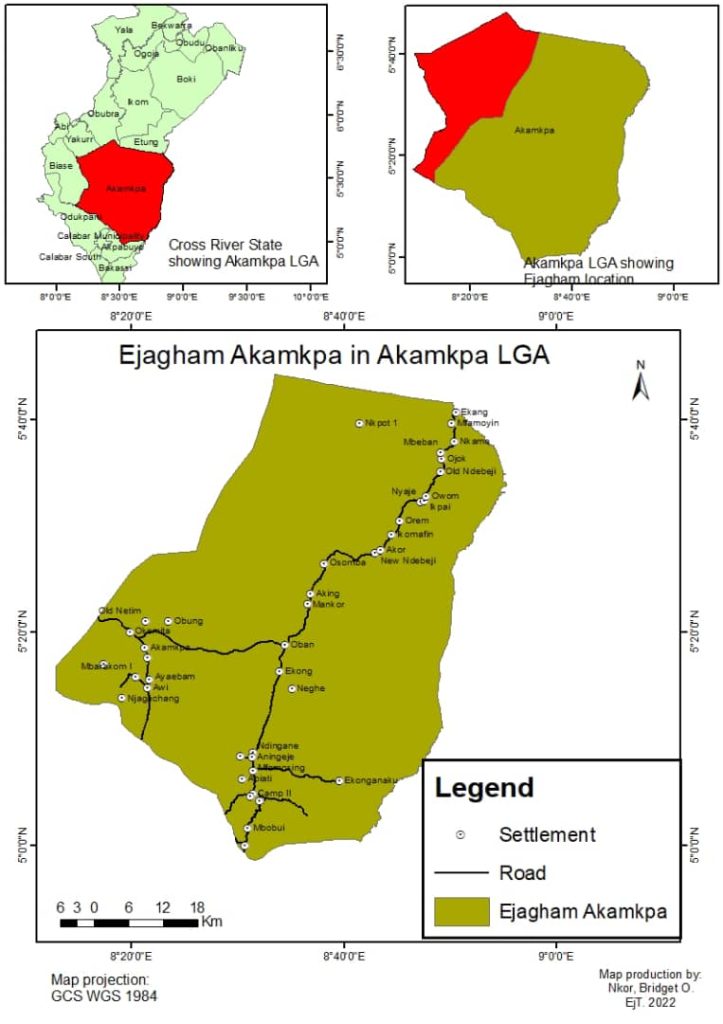 Ejagham Akamkpa
Akamkpa Local Government Area (LGA) is in the Southern Senatorial District of Cross River State Nigeria. It has a landmass of 4,300 square kilometres, and is bounded by Odukpani and Akpabuyo LGAs to the west and south, Biase and Yakurr LGAs to the northwest. Ikom and Etung LGAs to the north, and the Republic of Cameroon to the west.
There are two main ethnic groups in Akamkpa Local Government Area: Ejagham and Dusauga Iyong Iyong.
With the largest forest area in Cross River State and very fertile land watered by many rivers, streams, and springs, Akamkpa people are primarily agrarian. Agricultural estates in Ejagham Akamkpa include Kwa Fall Oil Palm Estate, Ayip Eku Oil Palm Estate, CREL Rubber Estate and Calaro Oil Palm Estates. In addition, there is a vast tract of reserved forest and Gmelina and other pulpwood plantation, privately owned rubber, oil palm, cocoa plantations, etc.
Granite rocks are abundant and hence Ejagham Akamkpa is associated with several quarrying companies. However, other solid minerals like limestone, kaolin are yet to be exploited. The tourism attraction in Akamkpa Local government includes Qua Falls in Aning-eje, Oban Hills located in Oban, Wildlife National Park, and a few.
The Paramount Ruler of Akamkpa LGA is His Royal Majesty (HRM), Echi-Atui, Ntufam Clement A. Emayip.
Towns and Villages in Ejagham Akamkpa Cluster. All Ejagham Akamkpa Clans are in Akamkpa Local Government Area.
SN

Clan

Town/Village

1

Achan

1
Ekang
2
Mbeban
3
Mfaminyen
4
Nkame
5
Ojok
6
Old Ndebiji

2

Akor

1
Akor
2
New Ndebiji
3
Iku
4
Abung
5
Abuminok
6
Etem Ndebiji

3

Aniking

1
Anikang I
2
Aniking II
3
Enyage Nsi
4
Etimemfam Aniking
5
Mbarakim II
6
Mfamefe
7
Nkomemba

4

Awi

1
Ajonji
2
Ayaebam
3
Awi Village
4
Ekaganka
5
Enia
6
Eranim
7
Esae
8
Etiokumi
9
Iranim
10
Mfam Efe
11
Mfame Koko
12
Nyane Mba
13
Nyungensi
14
Ojak Jen

5

Ekerabe South

1
Akamkpa
2
Akin
3
Akukati
4
Atamgba
5
Ayuk-Aba
6
Ekerabe
7
Mbeh Attah
8
Mbugemgbor
9
Mfam Atoyi
9
Onyore
10
Osoagui

6

Ekerabe North

1
Aneabae
2
Ebange Awoomin
3
Ebui Atong
4
Njogobika
5
Nsi-Aya
6
Nsi-Ekumi
7
Okimagud
8
Okom Ita
9
Orue

7

Ekinta

1
Akorouwu
2
Ekinta
3
Ekonganakn
4
Mbobui
5
Mbrukpa
6
Mfam Etim Ayip
7
Odoso Inyang Orok
8
Odoso Nye

8

Ekong

1
Achang
2
Agui Asa
3
Ekong
4
Ekpghet
5
Etimingam
6
Mfamonyok
7
Neghe I
8
Neghe II
9
Nkonemba
10
Nnekan

9

Ekpinini

1
Akomjik
2
Atekpuruk
3
Ikomafin
4
Iku
5
Nokugha
6
Ntebachot
7
Orem

10

Eku

1
Abung
2
Aking
3
Akor
4
Ayip Eku
5
New Ndebiji
6
Okarara
7
Osomba

11

Ikpai

1
Ikpai
2
Mkpot
3
Nyaje
4
Owom

12

Mangor

1
Etae Itokem
2
Mangor
3
Mbene Ntune
4
Ndip Eranim
5
Nkore Okumi

13

Mbarakom

1
Ebarisebe
2
Echinjok
3
Egui Ntufam
4
Ejosen
5
Ibunda
6
Mbarakom I
7
Njagachang
8
Nyungogim
9
Ofutop
10
Osing

14

Mkpot 1

1
Mkpot
2
Arip
3
Akarim
4
Obaratae
5
Ayuk-Aba
6
Ewo-Ofong

15

Ndingane/Okoroba

1
Abung
2
Mfam Embe
3
Mgbaghe
4
Ndiangane
5
Nko-Ayip
6
Ntui-Ise
7
Oban Okoroba

16

Netim

1
Abonoban
2
Akata
3
Akim Akim
4
Akpuwat
5
Akut Akut
6
Arut
7
Attah Nching
8
Ayokaba
9
Donya
10
Ebinjok
11
Egae Aya
12
Ekumekpak
13
Etimemfam
14
Etimi Nsa
15
Eyu Ekpawa
16
Eyuma
17
Ibaransi
18
Ikot Obot
19
Mkpeaya
20
Ndinghance
21
Netim Ebae
22
Obiribe
23
Obung
24
Okomita
25
Okomobraya
26
Old Netim

17

Nnanim

1
Agim Anim
2
Ikpan
3
Nghe
4
Nkoeyip
5
Nkonemba
6
Nnekam

18

Nsan

1
Nsan
2
Achagka
3
Akongor
4
Atim-Nkang
5
Mbarakpa
6
Mfame-Mbakara
7
Nkoge-Makara
8
Nkunaya
9
Nsi-Ayip Chang
10
Ntui-Ita
11
Nyung-Nsie
12
Orera

19

Oban

1
Etae Itokem
2
Isoba
3
Mangor
4
Mberentung
5
Ndip Eranim
6
Nkoreokumi
7
Oban

20

Oberikai

1
Akot Abah
2
Egangan
3
Etai Okoh
4
Etim Mfam
5
Oberekai
6
Okumi Ebaraga

21

Ojuk North

1
Aningeje
2
Aguiasa
3
Monatung
4
Msung-Akana
5
Ndiangane
6
Mgbaghe
7
Njok-Ika
8
Oban Okoroba

22

Ojuk South

1
Abiati
2
Ajene-Mfamosing
3
Ayuk-Aba Abiati
4
Ekonganaku
5
Mbotu
6
Mfamosing
7
Obereka
8
Okouokpa

23

Onun

1
Atae
2
Calaro Camp I
3
Calaro Camp II
4
Calaro Camp III
5
Calaro Camp IV
6
Calaro Camp V
7
Calaro Camp VI
8
Mberentung
9
Osun